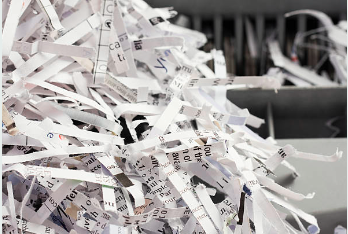 Document Shredding Services in Florida and Georgia
Approximately 15 million Americans experience identity theft each year. This identity theft can come from personal records and other documents that have either your business' information or those of your clients and customers. Does your business have the proper document shredding services set up?
Not only does Universal Waste Management take care of Florida and Georgia's biomedical waste, we also take care of paper shredding for commercial and local businesses.
Some of our clients include banks that need to shred financial records, hospitals that need to keep old patients' files private and even small businesses that have the personal information of customers on file. You won't have to worry about this precious information getting stolen when you work with Universal Waste Management because we will properly shred the documents and securely dispose of the shredding.
Why Choose us for Your Paper Shredding?
At Universal Waste Management, we have the professionalism, technology and secure disposal systems that you need. We can create a specific document shredding plan for your business needs, and do it at a great price. We are proud to be the best option for secure document shredding in Georgia and Florida.
Like with all of our services, following the rules, regulations and laws in document shredding is our top priority. Our team will comply with all privacy laws while protecting all of your sensitive information from fraud and theft.
To set up your document shredding services for your Florida or Georgia business, contact Universal Waste Management today.